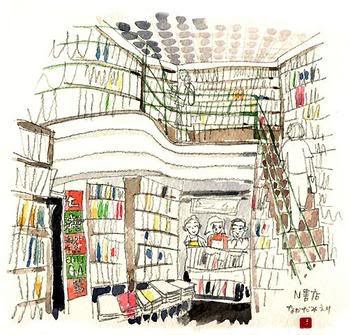 Or to be more precise, William - Will - Thacker, is the owner of an independent travel bookshop on London's
Portobello Road
called
The Travel Bookshop
: William is the fictional character played by Hugh Grant in the movie,
Notting Hill
. I always romanticised about working in a bookshop until I watched this movie; realising customers may ruin the magic.
Customer: "Do you have books by Dickens?"
William: "No, we are a travel bookshop. We only sell travel books."
Customer: "Oh right" (Pause, browses a little.) "How about that new John Grisham thriller?"
William: " No, that's a novel too."
Customer: "Oh right." (Another browse.) "Have you got a copy of Winnie The Poo?"
William to his colleague, exasperated: "Martin your customer."
The Travel Bookshop
actually existed (until it closed in 2011) and tourists would seek it out and have their picture taken sitting on the bench outside. To find and map out all the locations from the movie go
here
, where Laura Porter has listed a tour guide of
Notting Hill.
I'm definitely off the idea of working in a bookshop more so now on finding that
George Orwell
(and he's a relatively good judge) worked in a book shop in the mid 1930s and wrote:
'The real reason why I should not like to be in the book trade for life is that while I was in it I lost my love of books ... The thing that chiefly struck me was the rarity of really bookish people. Our shop had an exceptionally interesting stock, yet I doubt whether ten per cent of our customers knew a good book from a bad one ... Many of the people who came to us were of the kind who would be a nuisance anywhere but have special opportunities in a bookshop.'
No to nuisances, thank you very much!