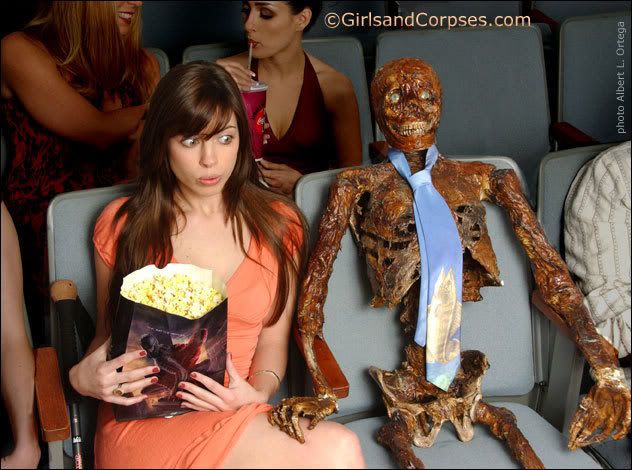 Inge set me up on a blind date.
Well, originally it was to be Inge and Deek and me and Deek's pal from Glasgow. See, Deek is the manager of
Compass Travel Agent's
in Dundee. He is Inge's boss. Inge is good at her job; she is currently the top sales person in Scotland. I am sure she works hard just to please Deek. However, I am convinced Deek only sees Inge as a
fun time gal
, (though I have never voiced my feelings as she is
head over heels
and I still haven't passed on my copy of
He's Just Not That Into You
by Greg Behrenndt & Liz Tuccillo). So when Deek mentions his pal, who is currently single, visiting from Glasgow ... Inge concocted a plan. A plan involving me.
The arranged time to meet is 7 pm: I start preparing at 4 pm, though I think I may be cutting it fine. I give it the works because this Glaswegian could be the man of my dreams.
Right?
You just can't take chances; now with this in mind, I bathe like
Cleopatra
except I don't use real milk that would be silly, but some sort of detoxifying and nourishing bath milk; I shave, I buff, I moisturise, I fake tan, I make up, I blow dry, I straighten, and I dress sexy. Then I undress. I dress again maybe three or perhaps seven ... teen more times. I am almost ready when the phone rings at 18:20.
"There's a change of plan, Shaz!"
"Oh no!" I shriek thinking that the night has been cancelled.
"No, no, Shaz it's still on. Only Deek and I are doing our own thing; you have to meet Noris by yourself."
Dammit!
Inge planned this from the start.
Bar Rio
: 19:20
All dressed up and no flipping place to go,
I mumble disgruntled as I enter
Bar Rio
and scan the bar to find Noris: Two
drop dead on the floor
gorgeous men - probably gay - standing in intimate conversation; one sleazy guy leaning over the counter in attempts to come on to Sally, the bar tender and one guy who - I swear - is the spit of
Rab C. Nesbitt
waving at pals in the far corner.
Knew it!
I arrived too early. Just as my thoughts are conglomerating into
how dare he be late!
or worse
stand me up!
I think to check the far corner.
Yikes!
There is nobody there.
Rab C ... er, Noris strides over, as I am trying to slink out of the bar. He doesn't know me.
Right?
I'll get away with it.
"Shaz, Shaz ...
SHAZ
, it's me Noris!" shouts Noris. "Ye, I recognised you straight away from your photograph; fabbie! " Inge, gave him a
photo! Trollop, like mother like daughter.