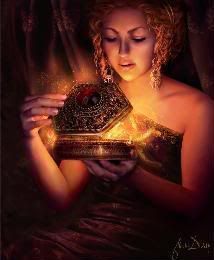 Hope is a good thing and no good thing ever dies.
Andy Dufresne

The Shawshank Redemption
Hope is a dangerous thing. It can drive a man insane.
Red

The Shawshank Redemption
From Greek mythology
Pandora
was given a jar (
Pandora's Box
) filled with seductive gifts from the Gods however she was told not to open it. Well, if you were given a jar and told never to open it ... ever. What would you do? How long could you hold out?
So low and behold all the evils of mankind; crime, poverty, pain, abuse, hunger, sickness and vice flew out into the universe. Except, one thing was left inside the jar. Hope.
Sometimes in life the only thing that keeps you going is HOPE.